The 2017 micrograph contest has now closed for submissions. Check back next year for the 2018 micrograph contest.

See the 2017 entries  here

(The sooner you submit your entry, the sooner the rest of the EIPBN attendees can see it (them). This is one way to improve your chance for the "3-Beamers Choice" Award.)
---
General Information
A panel of judges will disqualify any entry that it believes has not conformed to the rules and will select the winners. Awards will be announced at the banquet. As well as the entries selected by the judges, each conference delegate can cast a vote for their favorite micrograph.
There are seven categories:
Grand Prize,
Most Bizarre,
Best Electron Micrograph,
Best Ion Micrograph,
Best Photon Micrograph,
Best Scanning Probe Micrograph.
Conference-goers choice.
All Entries Must Be In Electronic Form
There are now 5 simple steps to fame and fortune:
Read the rules.
Select your favorite micrograph/video(s). [ You can enter as many times as you like.]
For each entry, download the powerpoint template and entry form, paste in your micrograph/video and fill out the template and entry form.
NEW: Use the notes section below the slide to provide more details of the MicroGraph. 5 – Email the micrograph/videos(s) and entry form(s) to jrandall@zyvexlabs.com .
Rules
Entries should be submitted by May 25. We will do our best to accept late entries at the Conference.
Contestants must be registered conference attendees.
Micrographs, videos, and entry forms must be submitted in electronic form. We prefer the micrograph on the power point template, but will accept JPEG or MPEG files.
Micrograph entries must be of a single image taken with a microscope and may not be significantly altered.
Videos must be of a microscopic subject. Animations (of a microscopic subject) will be accepted. Videos must be 30 seconds or less.
There is no restriction with respect to the subject matter.
Electron and ion micrographs must be black and white.
Contestants must submit a completed Entry Form.
Download Templates
Word Format: EIPBN-2017-ugraph-Form PPT format: uGraph-template-2017   PDF example: uGraph-example-2017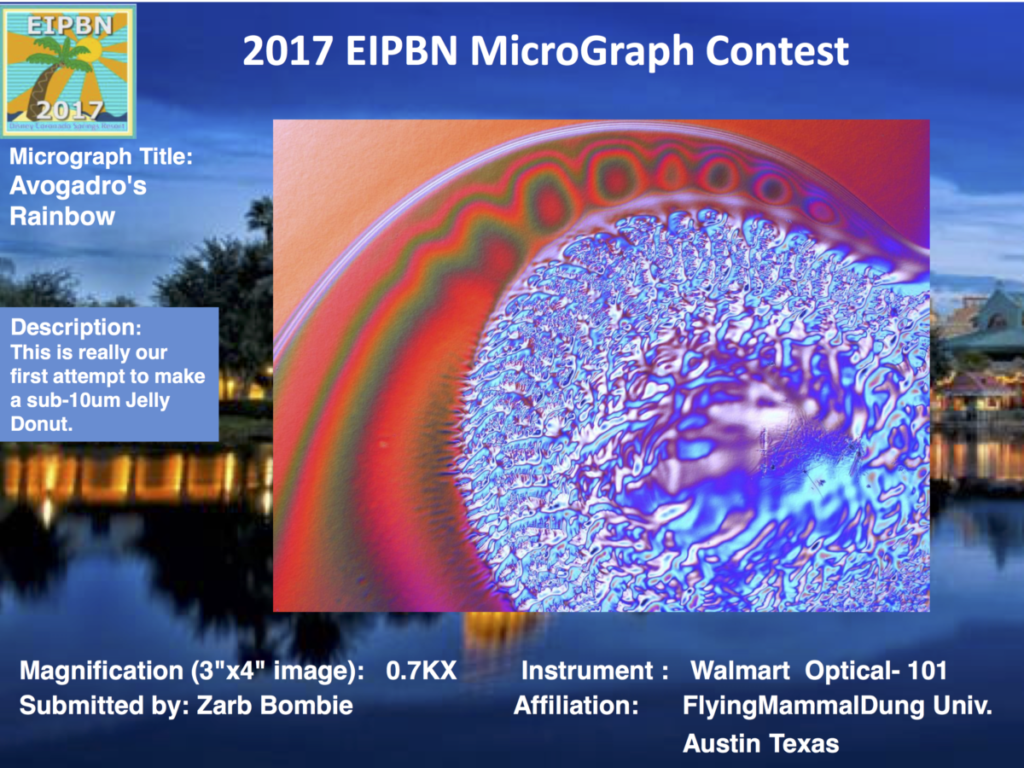 Comments:
We were trying to develop the first use of reverse psychology at the cell level by introducing Jelly Donuts directly into the blood stream to lower cholesterol.
Micrograph Contests through the years